Grenadier Estates places an environmental emphasis on its residential property developments.
We are always looking to find better ways to build and add sustainable features that will benefit householders for a lifetime – and our environment for even longer.
We welcome enquiries if you have a development project in mind, or a brownfield site for redevelopment.
Project Focus
St Margaret's
Redevelopment of the former St. Margaret's School in the heart of Exeter's exclusive St Leonard's will transform the Grade II and Grade II* listed buildings into 35 distinctive, luxury apartments and four individual townhouses with sustainable credentials.
The attractive development, which closed its doors as a school in 2013, is an exciting project for Grenadier as we realise our vision to breathe new life into these historic buildings.
The new homes being built at St Margaret's are a stone's throw away from the city centre as well as a range of independent cafes, bars and shops on Magdalen Road, the project began in summer 2017 and is set to be completed in winter 2019/20.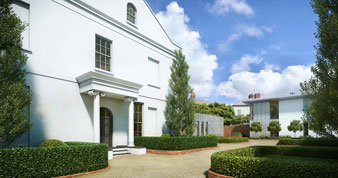 Residential portfolio
We have a residential portfolio of 12 properties, which are a mixture of cottages, new builds, apartments and grade listed properties in and around Exeter; Exmouth, Budleigh, Whimple, Clyst Hydon, Plymtree and St Leonards.
We deal with everything from the marketing, viewings, referencing, inventory, contracts and maintenance of the properties throughout the lease.